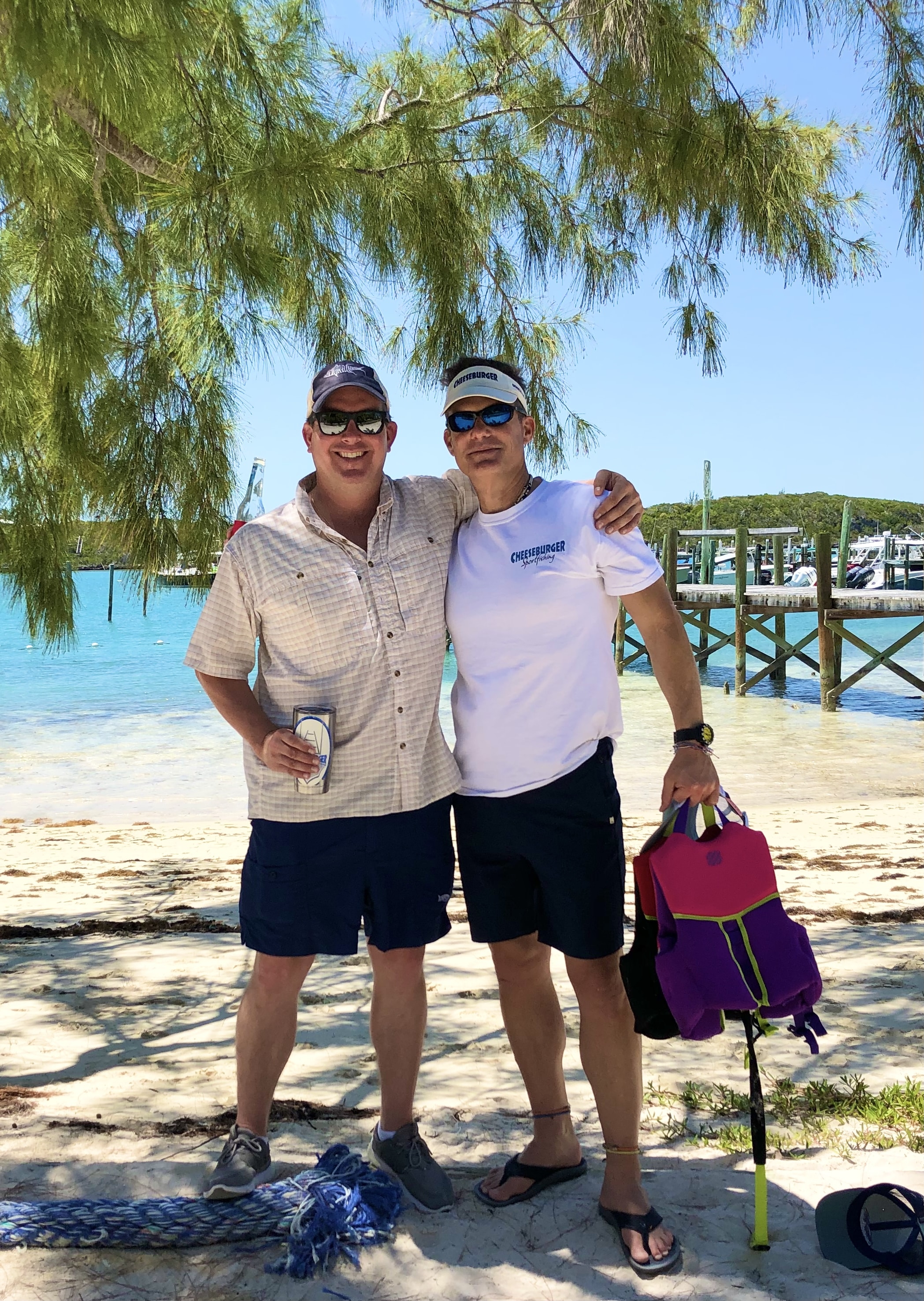 Left: Rimmer Covington, Jr., President & CEO
Right: Ron Ladner, Founder & Chairman
Pass Christian is a small waterfront town on the Mississippi Gulf Coast. "The Pass," as it's called by the locals, is home to one of the most beautiful harbors in the Gulf of Mexico, filled with one of the Gulf's largest shrimp boat fleets. It's also home to the first Shaggy's. Here is the story of how Shaggy's Harbor Bar & Grill was born..
In June of 2005, Shaggy's Founder, Ron Ladner, found himself at the Bait Shop in Pass Harbor where he was fueling his boat. The owner of the shop recognized Ron as a local Pass Christian real estate developer and mentioned to him that the Bait Shop was for sale. "I immediately thought about how cool it would be to expand the place, add a kitchen and serve fresh seafood, burgers, cocktails, and cold beer—Key West style," Ron said.
Ron and his wife Laura had recently become full-time Pass residents, after spending 6 years splitting time between Pass Christian and Atlanta. "I was ready to move on from the software business, so I sold my company, returned to my roots, and started a new chapter," Ron said. "I was really interested in developing small real estate projects on the Coast. Getting into the restaurant business wasn't even on my radar, but the whole idea of redeveloping a building in the harbor seemed pretty cool, so I decided to pursue the 'Bait Shop' project." But just two months after his decision to take on the project, tragedy struck the Coast.
On August 29, 2005, Hurricane Katrina slammed Pass Christian. The Bait Shop was gone...there was NOTHING left. "We lost our homes, we lost our town, we lost friends, and we lost our spirit. All our dreams were on hold."
But after several long months of recovery, Ron decided it was time to pursue his dream. "Our town desperately needed a place where we could all gather and visit over a cocktail and good food," Ron said. Construction began in April 2007, and Shaggy's Pass Harbor opened its doors just 3 months later.
Today, Shaggy's has five waterfront locations— four in Mississippi (Pass Christian, Biloxi, Gulfport, and the Rez), and one in Pensacola Beach, Florida. Even though Shaggy's is now visited by people from all over the world, Ron says he's proud that the Shaggy's environment is still a comfortable gathering place where you always feel like you're among friends.
Ron still owns and operates the restaurants alongside his business partner and fellow Coast native, Rimmer Covington, Jr. Rimmer lives in Pass Christian with his wife Taylor and their two children, Adelynn and Rimmer III.